Discover How Your Dentist Can Help You With Mouth Cancer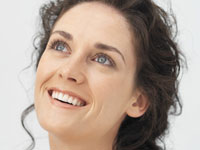 According to the American Cancer Society, about 30,000 new cases of mouth cancer will be diagnosed this year, and more than 8,000 people will die from it. Mouth cancer ranks as the sixth most common form of cancer that can affect any part of the mouth or lips. When detected early, the chances for successful treatment are enhanced. If left untreated, it can spread, leading to chronic pain, facial and oral disfigurement, loss of function, and even death. As a result, early detection and diagnosis of mouth cancer is vital.
Smoking and chewing tobacco significantly increase your risk. The carcinogens in tobacco, alcohol, and certain foods are leading risk factors. In fact, if both tobacco and alcohol products are used, one is 15 times at greater risk for developing mouth cancer. Exposure to sun also is linked to mouth cancer. Age, gender, and genetics are factors, too. About 95% of all mouth cancers are diagnosed in people 45 years or older. Men are twice as likely to develop mouth cancer as women.
Mouth Cancer Warning Signs
If you notice any of these symptoms, contact your dentist immediately for a thorough screening:
A persistent sore on your lips, gums, or inside your mouth that doesn't heal within two weeks.
Repeated bleeding in your mouth without any known cause.
Swelling, thickening, or lumps in your mouth, neck, lips, or on the tongue, often painless in the early stages.
Difficulty chewing or swallowing food, or difficulty in speaking or moving your tongue or jaw.
Numbness or pain in your throat or mouth without any known reason.
Color changes such as white, scaly patches or red lesions inside your mouth or on your lips.
Preventive Measures
Following good oral hygiene practices, eliminating risk factors such as tobacco and alcohol, and scheduling regular dental exams are important to maintaining good oral health. Research also has demonstrated that eating plenty of fruits and vegetables every day is a positive practice.
Dentists screen for mouth cancer during regular routine check-ups. They feel for lumps, tissue changes in your neck, cheeks, head, and mouth and look closely for sores. Early detection of cancer and prompt treatment is critical. Ask your dentist for more information about preventing mouth cancer.
By Richard Rogers, DDS
FAQs on Dental Implants, Wisdom Teeth and Sealants for Children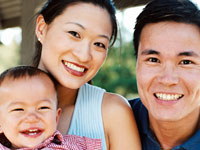 Q. How does one care for primary teeth?
A. As soon as the first tooth erupts, primary teeth may be cleaned with a clean, wet wash cloth or wet gauze. The gums should also be gently wiped. If a toothbrush is used, it should be an appropriate size.
Q. Where does decay on the primary teeth occur most often?
A. With inappropriate or prolonged use of the baby bottle, decay may occur on the upper front teeth (incisors). The second most-often occurring site are the upper primary molars, which are found furthest back in the mouth. If there is no spacing between the primary teeth, there is a much greater chance of decay between the primary molars. These teeth should be flossed as soon as they come in.
Q. Why are dental sealants beneficial for children?
A. Dental sealants are applied by your dentist as protective coatings for the chewing surface of permanent molars. They protect the teeth from decay. Read on for more information.
Q. What is a dental implant?
A. A dental implant is a permanent artificial tooth replacement.
Q. What is the procedure for receiving dental implants?
A. Dental implants are inserted surgically in two steps. The first step is to insert a "post" into or onto the jawbone. This post will then become the "anchor" for the artificial tooth that will be placed over the "post".
Q. How long is the procedure for dental implants?
A. Getting a dental implant is a two step process. Once the "post" is inserted into the jawbone, the patient will have between three and six months with a temporary restoration. During this period, the bone and gum area around the post will heal to create a strong and healthy bond.
Once this bond is complete, an additional set of smaller posts is attached to the original post and then the artificial tooth is secured to the posts. The entire procedure could take anywhere from three to ten months.
Q. Can I eat regularly while the implants are bonding?
A. While the "post" is bonding with your jaw and gums, your dentist will place a temporary artificial tooth on the post. During the bonding period, you will need to eat soft foods.
Q. Do implants require special care?
A. Yes and No. Dental implants need to be brushed, flossed and checked regularly by a dentist, just as you would do with your regular teeth. But dental implants don't need special brushes or pastes.
Q. Can you eat and chew normally with dental implants?
A. Yes. Consider that natural teeth can absorb up to approximately 540 lbs. per square inch of biting pressure and properly placed dental implants can withstand up to approximately 450 lbs. per square inch of the same pressure.
Q. How long should a dental implant last?
A. With proper placement, excellent home care, regular dental visits, and good overall health, dental implants should be permanent.
Q. What are wisdom teeth?
A. Wisdom teeth are the third molars.
Q. Why is it necessary to remove wisdom teeth?
A. It is necessary to remove wisdom teeth to avoid problems, such as an impacted tooth destroying the second molar.
Q. Why do wisdom teeth cause problems?
A. Wisdom teeth generate problems because the shape of the modern human mouth is too small to accommodate these teeth, and they become impacted or unable to come in or move into their proper place.
Q. What problems occur from impacted third molars?
A. Partially erupted wisdom teeth are breeding grounds for bacteria and germs that may cause infection. Cysts and tumors may grow on trapped wisdom teeth.
Q. How is a wisdom tooth removed?
A. Wisdom teeth are removed by surgery. The gum tissue over the tooth is removed, the connective tissue is stripped gently away from the tooth and bone, the tooth is removed, and the gum sutured.
Q. When are lasers used in dentistry?
A. Lasers are used in oral surgery, gum surgery, tooth whitening, cancer sore treatment, and the treatment of gums that have been diseased.